Your Vision, Only Clearer
If you're one of the many people living with some degree of nearsightedness, farsightedness, or astigmatism, you may have wondered what laser eye surgery is and how it can serve your vision.
Our team is ready to answer your questions and provide some clarity on these procedures when you come in for a comprehensive laser eye surgery consultation! Learn more about the surgeries, how they can address your concerns, and find out if they're the right choice for your needs today.
All you have to do is book your appointment, and our team at Eyetopia can handle the rest.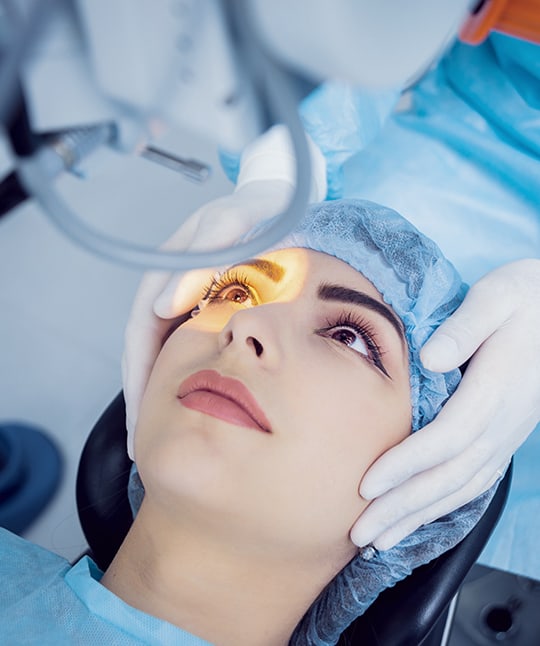 What Is Laser Eye Surgery?
Laser eye surgery is a group of procedures that address your visual concerns by changing certain aspects of your eye, like altering the shape of your corneal tissue.
The most common version of these procedures is LASIK eye surgery. During this procedure, an ophthalmologist, or eye surgeon, numbs your eyes with a special type of drop before making an incision in the outermost layer of your cornea.
This incision creates a flap that your surgeon folds back to reveal the underlying corneal tissue, which they then reshape with a special laser to correct your vision.
What Are Consultations?
Before recommending laser eye surgery, we first need to determine if you're a candidate for the procedure by performing a consultation. Even though laser eye surgery is considered safe and effective for most people, we might not recommend the procedure if you have:
What Is Co-Management?
It's important to understand that laser eye surgery doesn't guarantee 20/20 vision, and you might have to continue wearing glasses or contact lenses to make the most of your sight. We co-manage your surgical experience to help address potential side effects that may develop while you recover, including:
Dry eyes
Halos and glare
Blurry vision
Light sensitivity
General discomfort
Where to Find Us
Find us on the Southeast corner of El Camino Real and the San Tomas Expressway. We're right next to T-Mobile and the Hanin Federal Credit Union.

Our Address
2366 El Camino Real, Suite #5

Santa Clara

,

CA

95050
Hours
Monday

:

9:00 AM

–

6:00 PM

Tuesday

:

9:00 AM

–

6:00 PM

Wednesday

:

9:00 AM

–

6:00 PM

Thursday

:

Closed

Friday

:

9:00 AM

–

6:00 PM

Saturday

:

9:00 AM

–

3:30 PM

Sunday

:

Closed