Serving Your Vision With Modern Strategies
At Eyetopia, our mission is to keep your family's vision clear, healthy, and comfortable using techniques we're happy to tailor to your needs.
If you're wondering how we can help serve your family's vision, book an appointment with us today. We can't wait to see you.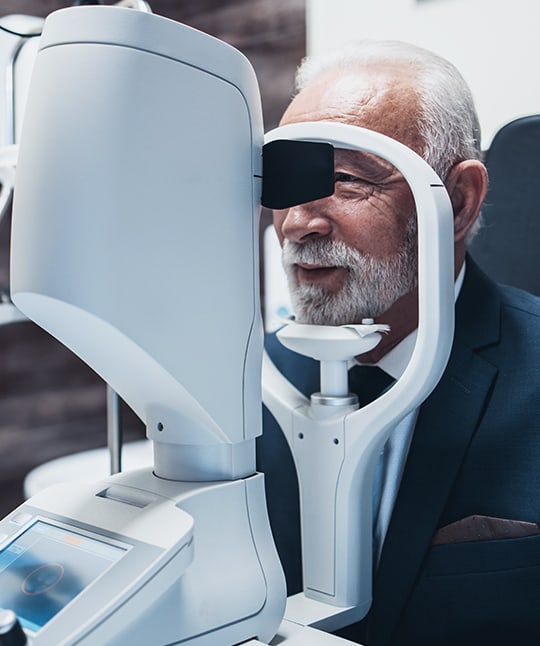 Why Your Eye Health Is Important
Though you see with your eyes every day, it's not that easy to see what may be causing potential eye health problems.
In many cases, eye diseases and conditions can develop without noticeable symptoms in their early stages. If they're left unchecked and unmanaged, they could lead to permanent vision loss.
But you could help protect your eyes by visiting us for regular eye exams. During an eye exam, we take a detailed look at the interior of your eye to detect various eye problems you may be at risk of developing. We can help manage your symptoms using modern techniques and treatments by detecting these problems as early as possible.
Common Eye Diseases & Conditions
The risk of developing an eye disease or condition is different for everyone. You may develop certain issues with age or have a higher risk of concerns based on your personal and family health history.
Some of the most common eye diseases and conditions we look for include glaucoma, age-related macular degeneration, diabetic eye diseases, and cataracts.
Experience Eye Care Through a Modern Lens
Eyetopia is proud to be your family's source of comprehensive eye care. Even if you aren't worried about potential issues affecting your eye health or vision, regular eye exams can help ensure we're providing the care you need to keep your vision clear, healthy, and comfortable.
Find out how we can serve your vision and book your appointment today.
Where to Find Us
Find us on the Southeast corner of El Camino Real and the San Tomas Expressway. We're right next to T-Mobile and the Hanin Federal Credit Union.

Our Address
2366 El Camino Real, Suite #5

Santa Clara

,

CA

95050
Hours
Monday

:

9:00 AM

–

6:00 PM

Tuesday

:

9:00 AM

–

6:00 PM

Wednesday

:

9:00 AM

–

6:00 PM

Thursday

:

Closed

Friday

:

9:00 AM

–

6:00 PM

Saturday

:

9:00 AM

–

3:30 PM

Sunday

:

Closed