Clear Sight Is Important at Any Age
At Eyetopia, we work hard to support your child's sight no matter where they go in life, and the first step towards providing the care they need is bringing them in for an eye exam. We can look for issues affecting their sight through an eye exam before recommending comprehensive strategies tailored to their needs.
Whether your child needs help managing an eye condition or wants to impress their friends with a new pair of fun eyeglasses, Eyetopia is proud to be the team they trust.
Book your child's next eye exam today!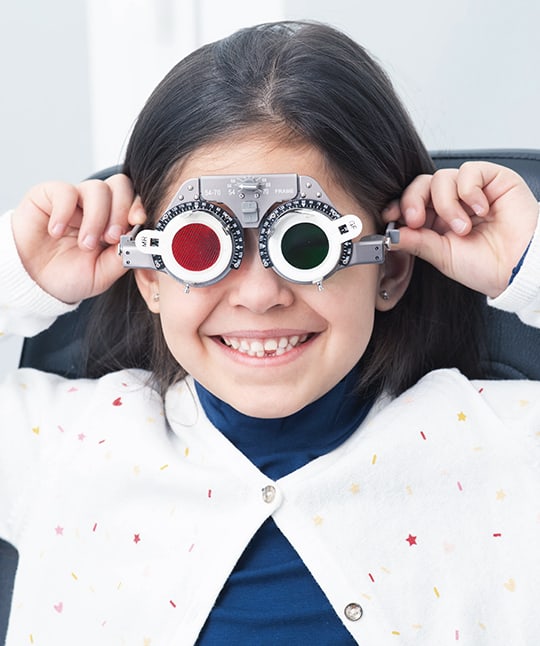 When Should My Child Have an Eye Exam?
Eye exams are an essential part of your child's regular health care routine, no matter their age.
Some children, especially babies and toddlers, aren't aware of their eye changes as they grow up. In some cases, potential issues can develop for years without their knowledge, but an eye exam can detect these problems before they become more severe.
We recommend bringing your child in for their first eye exam between 2-3 years old. We may recommend a few more eye exams before they start school, but we'll recommend annual eye exams throughout their school years.
Common Eye Conditions Children may Develop
Regular eye exams can help detect potential eye issues, but your child may display some behavioral signs if they develop an eye or vision problem. Book an eye exam if you notice your child:
Closes one eye to see
Constantly rubs their eyes
Experiences regular headaches
Sits close to TVs and computers
Struggles to read
Several eye conditions can develop at a young age, so it's important to get your child the help they need before these issues cause more severe problems. Some of the most common problems include myopia, amblyopia, and strabismus.
Myopia (Nearsightedness)
Myopia, also known as nearsightedness, affects about 30% of the country's population and is one of the most common eye conditions children can develop.
Myopia can develop during your child's school years, affecting how clear their distance vision is. It can progress as they grow up, but we can help address the issue using various strategies. Some of the most common are vision-correcting eyeglasses or contact lenses.
Specialty contacts, like orthokeratology (ortho-k) lenses, may be used to help control myopia progression. These lenses are worn at night to gently reshape the eye to provide clearer vision throughout the day and slow the progression of myopia in children.
Amblyopia (Lazy Eye)
Amblyopia, commonly known as lazy eye, is an eye condition many young children can develop. It can occur when their eyes have an uneven lens prescription, causing the "weaker" eye to wander.
We may be able to help manage this issue with vision-correcting lenses or recommending various eye exercises. If left untreated, the brain could ignore images from the "weaker" eye, leading to vision loss.
Strabismus (Crossed Eyes)
Strabismus, or crossed eyes, is an eye condition that affects your child's eye alignment. It can occur when your child has underdeveloped eye muscles, large refractive errors, or a health condition like Down syndrome or cerebral palsy.
If left untreated, it can lead to amblyopia and potentially permanent vision loss.
Corrective lenses and eye exercises could help manage the issue, but we may recommend eye muscle surgery if your child's symptoms are severe enough.
Visit Us Today & Browse Our Frame Designs
If your kid is looking to wow their friends at school, we have a fabulous selection of frame designs they'll adore! Our optical team can even help your child find frames that fit their unique lifestyle so they can enjoy their vision wherever they go.
Visit us to browse our eyewear gallery or book your child's next eye exam so we can help them enjoy clear, comfortable, healthy sight today.
Where to Find Us
Find us on the Southeast corner of El Camino Real and the San Tomas Expressway. We're right next to T-Mobile and the Hanin Federal Credit Union.

Our Address
2366 El Camino Real, Suite #5

Santa Clara

,

CA

95050
Hours
Monday

:

9:00 AM

–

6:00 PM

Tuesday

:

9:00 AM

–

6:00 PM

Wednesday

:

9:00 AM

–

6:00 PM

Thursday

:

Closed

Friday

:

9:00 AM

–

6:00 PM

Saturday

:

9:00 AM

–

3:30 PM

Sunday

:

Closed